Tuatapere and District Classifieds
To help promote this website and the information it contains to the local community, a Classifieds facility has been added that allows Tuatapere and District residents to advertise items, services and jobs, wanted or for sale, for free. A small donation would be welcome on larger sales but is not mandatory.
The process has been kept as simple as possible. To access the Classifieds area simply navigate to the Classifieds item found under the Community menu item on the far right of the menu bar.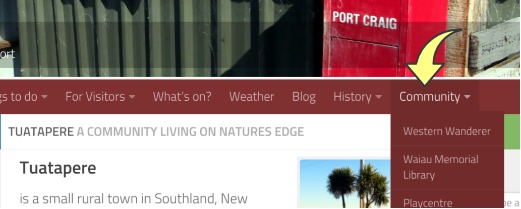 A list of current classifieds will be shown along with a number of buttons and fields to allow existing Classifieds to be searched and new Classifieds to be added.
All Classifieds will be moderated before being made availableAll Classifieds will be moderated before being made available, so a delay of one to two days may occur before the Classified is displayed. In most cases the moderation will occur within a few hours of the Classified being submitted.
Please read the Terms and Conditions before using this new facility.
To help keep the community portion of this website up-to-date, please take the time to review the items in the Community menu as some of these details are now out of date. Any additions or corrections should be emailed to info@onnaturesedge.co.nz.